queen-beebuzz-inn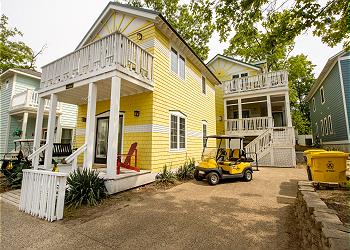 Queen Bee and Buzz Inn
https://www.beachwalkvacationrentals.com/rentals/properties/queen-beebuzz-inn/
Queen Bee and Buzz Inn | Michigan City Vacation Rental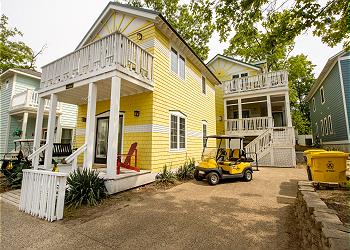 | | |
| --- | --- |
| Turn Day | Friday |
| Bedrooms | 7 |
| Baths | 6 |
| Sleeps | 24 |
| Location | Beachwalk Resort, IN |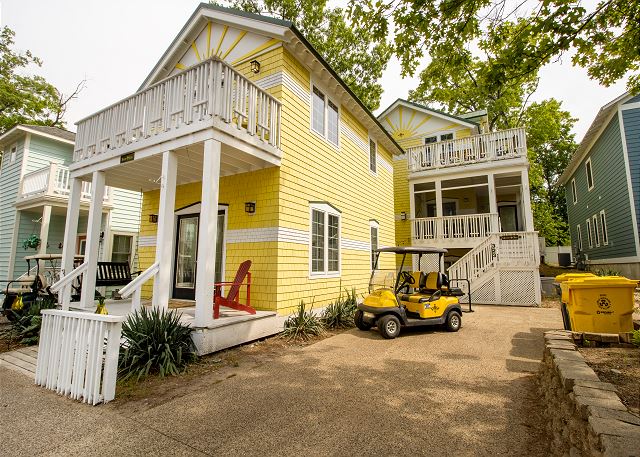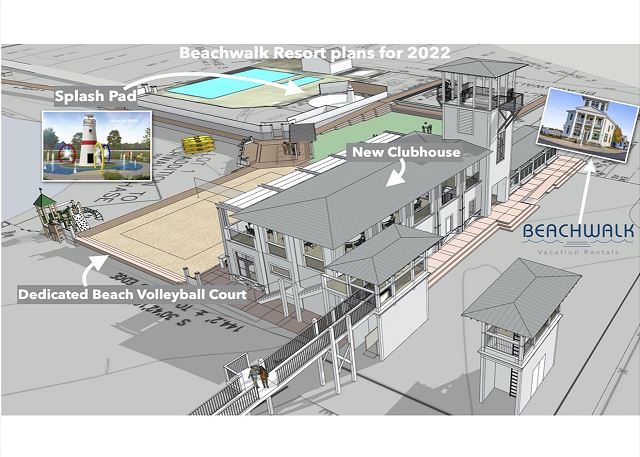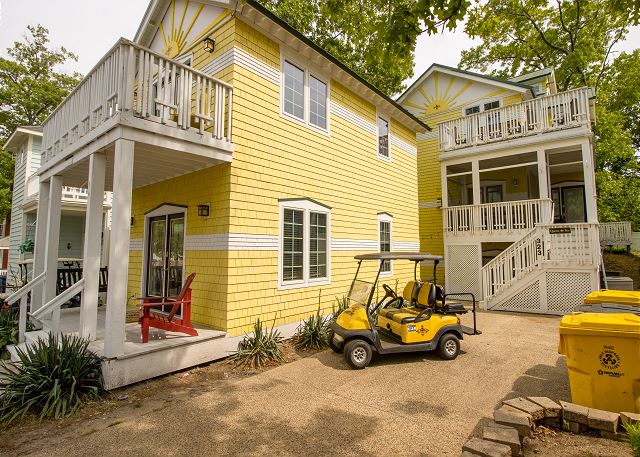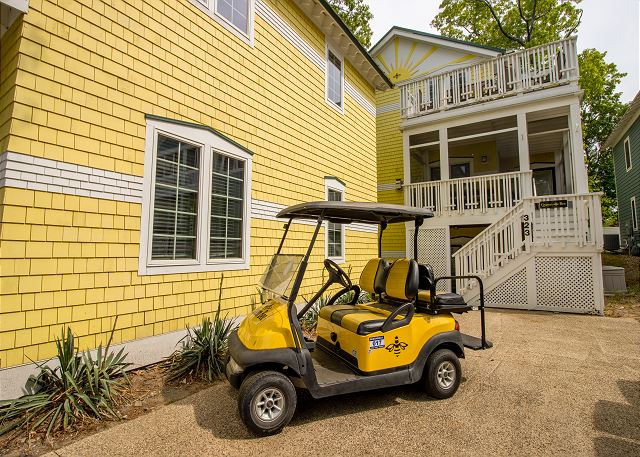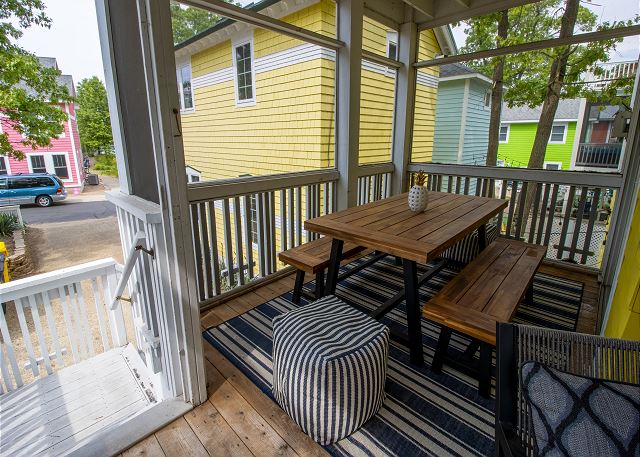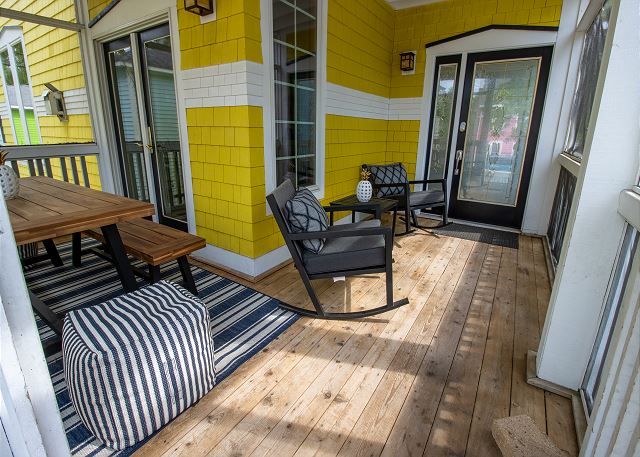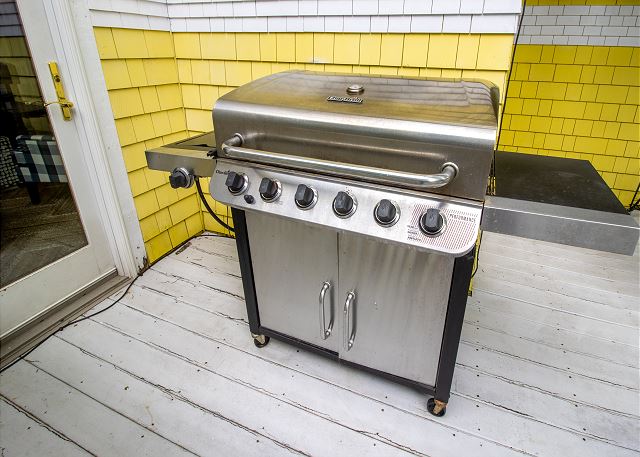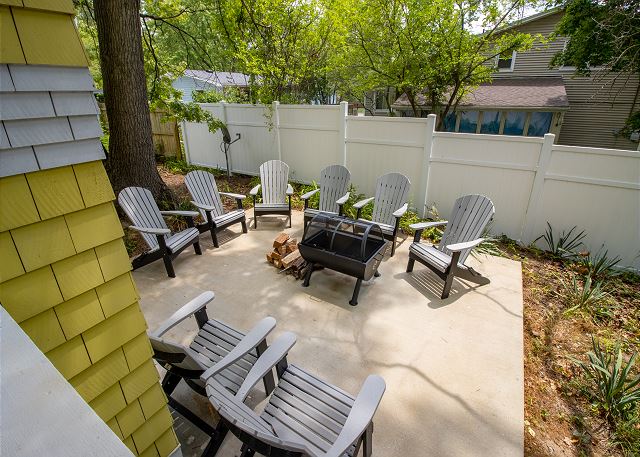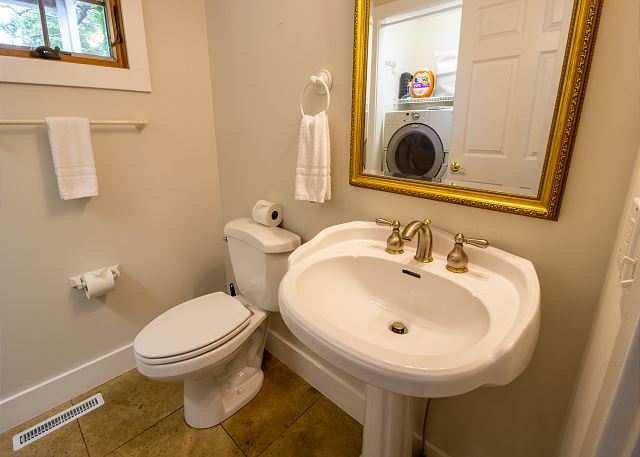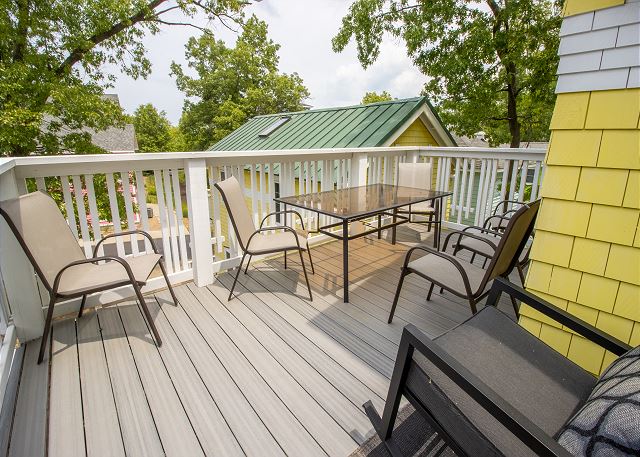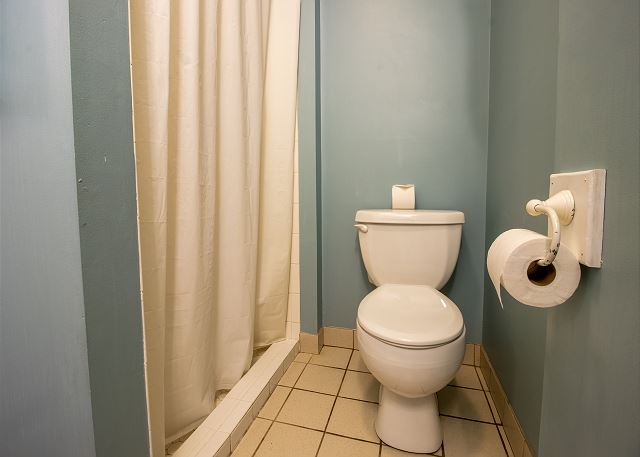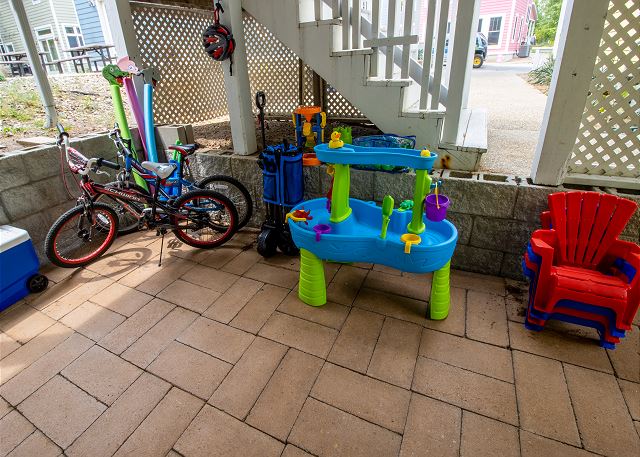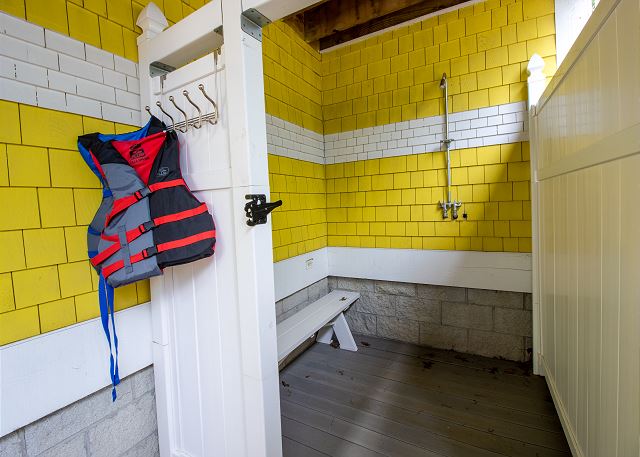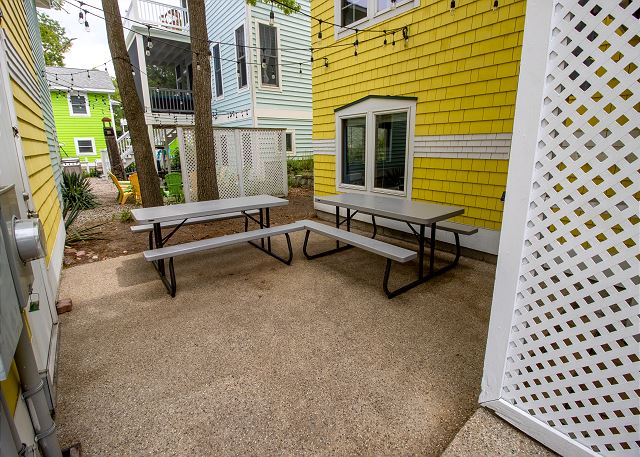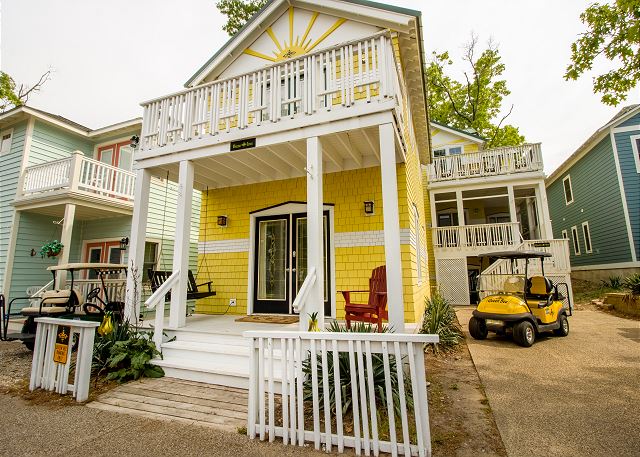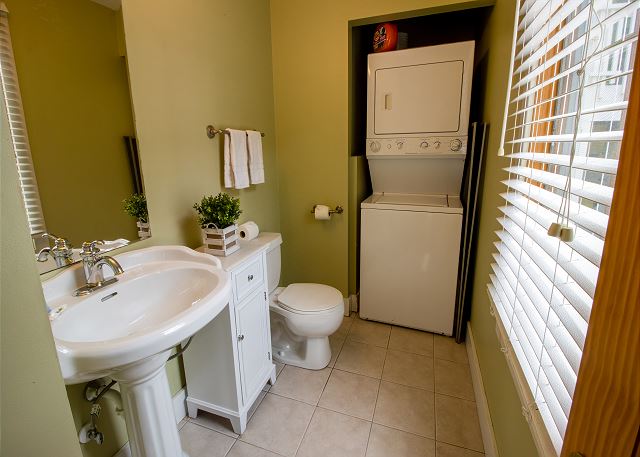 The Queen Bee, along with its included coach house, Buzz Inn, are not to be missed. This massive property is one of Beachwalk's largest and is year after year its most popular rental. It's not hard to see why, with seven bedrooms and eight bathrooms spread across six separate floors of living, porches and balconies off nearly every room (8 total porches/balconies), a large enclosed outdoor shower with hot water, gorgeous tile-work and high end finishes throughout, and six flat screen TV's, Queen Bee is the family friendly beach house of your dreams.



Main Floor:



Enter the home through the front screen porch into a massive great room complete with fireplace and a custom made fifteen foot farmhouse table that easily seats 18 or more. The great room is open to a gourmet chef's kitchen, island with bar stools, and a separate seating area with flat screen TV. The main floor also has a massive king master suite with its own private porch, TV, and giant master bath. There is a separate half bath with laundry also on the main floor.



Second Floor:



Take the stairs to the second floor where yet another king master suite with private porch, large bathroom with jacuzzi tub, and TV awaits. The second floor also has a queen with a crib and en suite bath with its own large private porch, a bunk room that sleeps six, and yet another full bath.



Third Floor:



Up the stairs to the third floor is a fabulous private top floor loft bedroom that sleeps two and has sun decks off of either side.



Ground Floor:



That's not all! In our amazing family friendly ground level, you will find an enormous living room/rec room with room for all to gather with a fifty inch TV, pool, kitchenette, full bath, and seating for the masses. The ground level also includes a phenomenal brand new large bedroom with custom built-in twin bunk beds soaring over two built-in queen beds. All four beds have their own built-in reading lamps and USB charging ports for your gadgets. This bedroom can easily accommodate a family, or can comfortably sleep adults who want a queen bed. A truly unique and amazing space.



Buzz Inn:



The Queen Bee by itself sleeps 20+ more than comfortably. And the included two-story coach house, Buzz Inn, sleeps four more. Buzz has another 1,200 square feet of beautifully finished private living space with a huge second floor master with jacuzzi tub, private fireplace, and private deck. And the main floor of Buzz includes its own living room and TV with a pull-out couch, a full kitchen with granite counters and stainless appliances, and yet another bathroom with laundry. Wow.



Exterior:



That's just the inside of these beautiful houses--but you came here for a beach vacation, so don't forget the outdoor living. In addition to all of the decks and porches, the Queen Bee also includes two gas grills, two picnic tables for gathering the family outside in the back yard dining patio, and a separate fire-pit area. The Queen Bee and Buzz Inn also have their own custom painted golf cart with rear seats that comes included with each rental.



Beachwalk:



And, of course, you will be able to enjoy all the amenities of the award winning Beachwalk Resort community, including interior Lake Kai with a sandy beach, fishing pier, free kayak and paddle board rental, and frog-catching, a heated community pool and kid pool, a custom playground and park, hiking trails through the dunes, tennis, basketball, and beach volleyball courts, and, of course, a private entrance to one of Lake Michigan's most beautiful stretches of sandy beach. If you are planning a big family vacation, or a get-together with friends or colleagues, you would be making a mistake by passing up an opportunity to rent Queen Bee and Buzz Inn.
| | Nightly | Weekly |
| --- | --- | --- |
| January 03 - May 26, 2022 | $595 | $2,995 |
| May 27 - May 30, 2022 | $795 | - |
| May 31 - June 16, 2022 | $655 | $4,585 |
| June 17 - August 11, 2022 | - | $7,336 |
| August 12 - August 18, 2022 | - | $6,545 |
| August 19 - September 01, 2022 | $785 | $5,495 |
| September 02 - September 04, 2022 | $875 | - |
| September 26 - November 22, 2022 | $595 | $2,995 |
| November 23 - November 27, 2022 | $695 | - |
| November 28 - December 22, 2022 | $595 | $2,995 |
| December 23 - December 25, 2022 | $695 | - |
| December 26 - December 29, 2022 | $595 | - |
| December 30 - December 31, 2022 | $695 | - |
*There is a 7-night stay minimum night stay requirement during the peak season. Low and mid-seasons may be adjusted to reflect a 2 or more minimum night stay requirement. Please contact us with any questions by calling (800) 814-7501 or email info@beachwalkresort.com.
Minimum Nights
Start Date
End Date
Minimum Nights
01/03/2022
05/26/2022
2
05/27/2022
05/30/2022
3
05/31/2022
06/16/2022
2
06/17/2022
08/11/2022
7
08/12/2022
08/18/2022
7
08/19/2022
09/01/2022
3
09/02/2022
09/04/2022
3
09/26/2022
11/22/2022
2
11/23/2022
11/27/2022
3
11/28/2022
12/22/2022
2
12/23/2022
12/25/2022
3
12/26/2022
12/29/2022
2
12/30/2022
12/31/2022
2
Heated Community Pool (seasonal)

Paddle Boarding (seasonal)
Thank you for entering your review. The review will become available to the system shortly.
23
23
Overall Rating:
4.8696
4.8696
Family Getaway
Rating:
1
5
5
Review Date: 01/05/2022
My family and I wanted to get to gether for New Years, this is our second time renting with Beachwalk and both times the stay exceeded expectations. We will be returning. The only problem was no tv in all bedrooms but the pool table made up for it.
Annual Family Holiday
Rating:
1
5
5
Review Date: 12/13/2021
Great home! It was well-equipped, clean and bright! We enjoyed playing pool, games, doing crafts and puzzles. Some even took a polar plunge! Had trouble with the heat, but know now we could have called the office! Just wish there was more comfortable seating on the main level. Already made our reservations for next year!
Very Beautiful home!!
Rating:
1
5
5
Review Date: 11/17/2021
This home was very nice and included everything that we needed for our stay! We would love to come back for another visit!!
Great and spacious house
Rating:
1
5
5
Review Date: 11/16/2021
Excellent house with everything you need for a great week or weekend getaway. Plenty of room for multiple families. The management company got right back to us for a small issue and extremely helpful. Highly recommend.
Great for group getaways
Rating:
1
5
5
Review Date: 11/09/2021
I booked this house for a gaming weekend with 11 other people. It was affordable, well-maintained, spacious, a short drive from Chicago, and overall a great spot for our large group. The long kitchen table was perfect for board games. The 1st floor shower was broken and the pool table in the basement wasn't level, but everything else was in good working order.
Queen Bee and a Great Buzz!
Rating:
1
5
5
Review Date: 09/14/2021
Our annual cousins weekend left us all abuzz about the wonderful time we had at Beachwalk Resort and the Queen Bee and Buzz Inn. This was our 2nd time staying at Beachwalk and we were not disappointed.
Great fit for our big family
Rating:
1
5
5
Review Date: 08/27/2021
Loved our stay at Queen Bee. This was our second year at Beachwalk, and the Queen Bee and Buzz Inn fit the needs of our large family. We've already booked again for next year.
Quality Queen Bee
Rating:
1
5
5
Review Date: 07/25/2021
First time renters, great fun, plenty for our family aged 10-70 to do

Great get-away!
Rating:
1
5
5
Review Date: 06/26/2021
We had a great time! Thank you thank you! Good food, good times - so glad we got to do it. A beautiful home that will be the center of great memories for many people!
Wonderful House
Rating:
1
5
5
Review Date: 06/07/2021
My family loved this reunion because of the wonderful accommodations and location. The beachwalk and close proximity to the pool, volleyball, basketball courts kept everyone busy. Thanks for this experience!
Best Friend Getaway
Rating:
1
5
5
Review Date: 11/07/2020
Best get away with friends. House was fantastic. So much to do and house was beat. Loved the huge kitchen table!!!
Change of scenery 2020
Rating:
1
3
5
Review Date: 10/01/2020
Queen Bee: the outdoor shower never worked the for the entire two weeks we were there. The first floor shower broke while there. The kitchen floor and baseboards were really grubby. There was a bee's nest outside near the shower and two of my grandchildren were stung. Buzz Inn: the shower was always too hot and the stove was greasy.
A Great New Discovery for Family Vacations!
Rating:
1
5
5
Review Date: 09/27/2020
This was a great house and location for a short family trip. I\'m so pleased to have discovered Beachwalk; I personally loved the colorful houses and the feeling of community. It\'s wonderful to be able to drive 3 1/2 hours to a real beach community rather than drive 2 days or more to an ocean or the Gulf! We had a windy day that gave us as big of waves as we\'d get at the ocean. We\'ve already booked a house for next year\'s week long vacation. The Queen Bee is extremely spacious with a great bedroom to bathroom ratio. The basement was perfect for four young teen girls; they loved the bunk room down there. The huge dining table is wonderful, and the kitchen is beautiful and fully stocked. Having the golf cart was especially fun. My only suggestion to the owners would be to put some sliders on the bottom of the chairs around the table to make them easier to move. Management responded immediately to the couple of maintenance issues we had. Two things this house doesn\'t have is a big main floor living room area or much of a yard . . . but, despite those two things, it\'s still definitely a 5-star house; and we would definitely recommend it and the Buzz Inn for any big group.
Family Holiday
Rating:
1
5
5
Review Date: 06/28/2020
The house was wonderful! The staff was also wonderful! And the holiday that we spent together was full of memories that will last a lifetime. Can't wait to come back and do it all again.
Manager Response: 07/02/2020
Response from BWVR, LLC
Vanessa, We enjoyed being a part of your stay and can't wait to have you back.
Fun place to stay even during the winter
Rating:
1
5
5
Review Date: 02/11/2020
Having never been to Michigan City, several of us weren't sure what to expect. We stayed in early February which can be anywhere between cold and bitter cold/blizzard. Luckily for us, it was just cold and road conditions were safe.
Checking in/out was super easy. The property was clean, comfortable and had plenty of amenities. Cooking meals was easy - plenty of utensils, tableware, grill/oven/stove, etc. There's a long dining table for meals or playing cards/games. Pool table and TV in the basement were perfect for hanging out during college basketball games.
Only downside: There's really nothing to do within walking distance during the winter. However, it was easy and affordable to get an uber...short ride to the casino, restaurants, etc.
Would definitely recommend to another guest and hope we'll be back too.
Family Reunion
Rating:
1
5
5
Review Date: 01/21/2020
Our stay at Queen Bee & Buzz was terrific. They were spot on with the descriptions on the website. The property is well maintained. We had a few minor issues but management responded promptly. Odessa and Mindy in the office went above and beyond to help arrange everything. We will definitely be coming back next year.
Great Family Reunion Weekend!
Rating:
1
5
5
Review Date: 10/22/2019
Our family had a wonderful weekend. Everything about the house, location and weather was perfect. We plan on returning in 2020 and have already recommended Queen Bee and Buzz to our friends.
Great for big groups
Rating:
1
5
5
Review Date: 10/18/2019
We had a great time at the Queen Bee and Buzz Inn. We had a big group of friends from all over the country. The Buzz Inn would be perfect for a family with a baby if you wanted them to sleep away from the noise of the main house. The bunk room downstairs is perfect for kids and there is a second one on the 2nd floor that would be great for kids or a big family. Spacious rooms, big kitchen table for gathering. Loved the community (great playground right by the house for the kids) and golf cart. One thing to note, the chairs at the kitchen table make a ton of noise when pulling them out, but besides that, we loved the house and the Beachwalk staff were lovely.
Queen Bee
Rating:
1
4
5
Review Date: 07/08/2019
We enjoyed the layout of the house for 13 adults and 6 kids under the age of 6. The house was also well stocked with towels and kitchen tools. The house needs upkeep though. Multiple things were broken or in disrepair. Also, hot water seemed to be an issue. For the community, we kayaked, fished, went to the beach, pool and playgrounds. Our only complaint was that the pool needed serious daily cleaning with that many people. Also the properties are VERY close to one another. If you have rowdy neighbors there is not much you can do.
Queen Bee and Buzz Inn Review
Rating:
1
5
5
Review Date: 06/06/2019
We loved this home! It was the perfect size for the amount of people we had staying and it was nicely laid out! We especially loved the big table!
Queen Bee and Buzz Inn
Rating:
1
5
5
Review Date: 05/30/2019
Beautiful, clean property. Plenty of room for our group of 20, ages 1-90! Fun basement rec room, great kitchen, fire pit, golf cart, had it all.
Great Getaway
Rating:
1
5
5
Review Date: 04/04/2019
This property was AWESOME! My family needed a getaway from Chicago and this comfortably slept all 22 of us. Though the rain kept us inside, the spacious Queen Bee house kept us all busy. My family and I can definitely see us booking again!

One flaw, though not a big deal, was the pool table was a little slanted and we weren't able to find the other pieces to the ping pong table nor paddles. This minor incident did not really affect my family from having a great time though. See you next year Queen Bee and Buzz Inn!!
Women's Retreat
Rating:
1
5
5
Review Date: 03/20/2019
Your request has been sent. We look forward to meeting all your vacation needs!
Availability
| | |
| --- | --- |
| Turn Day | Friday |
| Bedrooms | 7 |
| Baths | 6 |
| Sleeps | 24 |
| Location | Beachwalk Resort, IN |
Beachwalk Vacation Rentals
202 Beachwalk Lane | Michigan City, IN 46360
ph: 800- 814-7501 | 219-879-7874